For all the GIMP lovers, who (most probably) also love Script-FU... Those little scripts that make our GIMP sessions more fun.
If you're tired of downloading bits of scripts here and there, here's how you can download a whole bunch of them at once:

Download the archive at gimphelp.org

Extract to your GIMP's scripts directory
Linux: ~/.gimp-2.8/scripts or system-wide: /usr/share/gimp/2.0/scripts
Windows Vista/7: C:\Program Files\GIMP 2\share\gimp\2.0\scripts orC:\Users\<username>\.gimp-2.8\scripts
Windows XP: C:\Program Files\GIMP 2\share\gimp\2.0\scripts or C:\Documents and Settings\<username>\.gimp-2.8\scripts


What are in the archive? Notable example scripts are:




Artist: Angled strokes, Color Pencil, Conte-charcoal crayon, Crosshatched, Cutout, Inkpen, Note Paper, Paletter Knife, Pastel, WaterColor
Color: Invert, Saturation, BW from Graphic, Color Temp, Funky Color, Grey Point, Split Tone With ED, Tone Mapping
Contrast: Shadow Recovery, Auto Contrast, Change Contrast, High Pass, ISO Noise Reduction
Create new: CD label, GlassEffect Text, Glossy Orb, Letter Drop Animation, Scribbled Text, Text Balloon, Text Circle
Disorts: Circle Maker, Photocopy, Wrap Effect
Edges: Fade Outline, Fuzzy Border, Jagged Border, Translucent Border, Add Matte, Art Border, Frame like poster with strait corners, Frame like slide with round corners, Frame with Bevel, Frame with hover effect and round corners, Photo Border Fancy, Photo Frame, Tasty Frame
Effects: Cartoon 2, Blackboard Effect, Cartoon Quick, Chrome Image, Cross Light, Fog, Landscape Illustrator, Lomo, Reflection, Sepoina Graf-ix
Effects Selection: Bevel Selection, Chisel Or Carve, Glass Selection, Glow Selection
Photo: Picture to graphic, Copyright text, EZ Red Skin Fix, Film Grain, Fix Overblown, Halftone, Highlight to Sky and Clouds, Infrared Simulation, Red Eye by Selected Area, Red Eye Desaturate, Vintage Photo, Web Photo Editor
Shapes: CD Mask, Circle Draw, Old Paper, Stampify
Sharpness: High-Passs Sharpen, BSSS-Sharpen, Midtone-Sharp, Smart Sharpening, Wisest Sharpen, Blur Non-Edges, Make wonderful, Orton effect, Pixel Gradient, Sharp Blur, Soft Focus, Soft Focus Simple, Wrap Sharp
Sketch: quick sketch, Drawing, Line Sketch, Pastel Sketch, Pencil Sketch, Pen Drawn, Roy Lichtenstein, Synthetic Edges, Toned Line Art
Texture: Patchwork, Stained Glass, Texturizer
Misc: Arrow, Calendar Month, Calendar year, Prepare for Colorize, Remove Paths, Remove Settings, Step Resize, Stoked text, Watermark
Notable example scripts are:These scripts only works with GIMP 2.8 (should be working with 2.7 as well, since it was 2.8's development branch), surely not with GIMP 2.6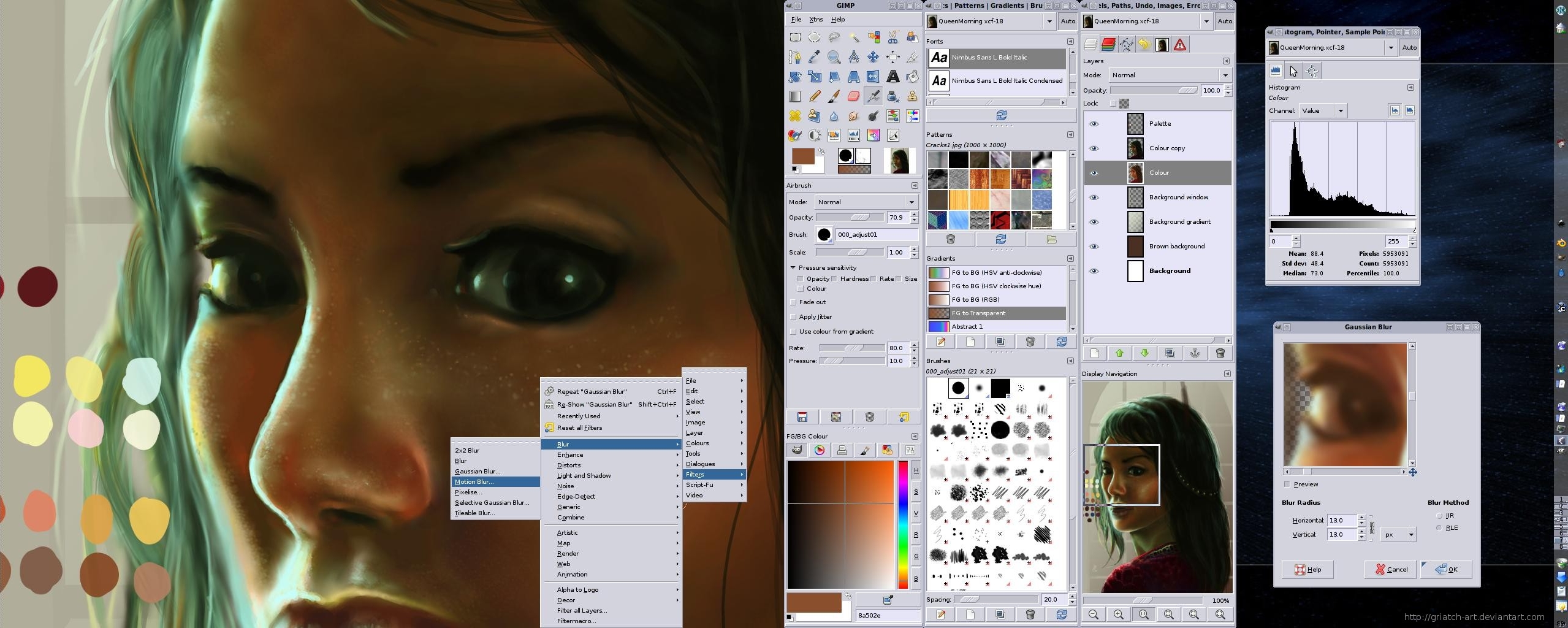 Happy GIMPing!
Posted by Posted by Ariff Abdullah , on at 10:09 • Labels: geek, GIMP, L